ZoneAlarm Basic Firewall Review, Features and Pricing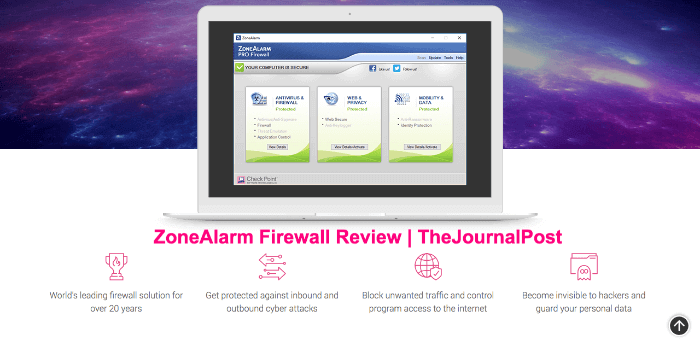 ZoneAlarm Basic Firewall is a revolutionary PC firewall especially for internet users to review and stop the internet and cyber-attacks because of online security and safety. The biggest benefit of using this tool is that you can easily get protection against harmful threats from both attacks inbound and outbound.
Once you entered the world of the internet you are not safe anymore, but you can try to minimize the number of attacks and ensure safety and security by using these tools and software. In the modern era, the number of hacking and cyber-attacks increasing on a daily basis. However, you can protect yourself with the help of the ZoneAlarm Basic Firewall that ensures and review your security and privacy.
One of the core advantages of the Firewall is that it provides protection tools that are at the next level. These tools are used to make the ports invisible and stop inbound-outbound attacks as well as transform them into stealth mode efficiently. It allows free and safe browsing protection with the help of extension and provides the facility of apps to offer robust security to mobile phones.
The top features of the ZoneAlarm Basic Firewall include Managing the network structure and reviewing the internet connection by deploying them, an Identity protection system, Invisible to hackers and protecting personal data, a Backup Management system, and many more. Total Defense Internet security and Little Snitch are prominent alternatives to Zonealarm. It offers a Free version with limited features and pro version to unlock pro features.
If you're looking for a basic firewall that will provide some protection for your computer, then ZoneAlarm Basic Firewall is a good choice. This firewall is easy to set up and use, and it's free for personal use.
ZoneAlarm Basic Firewall includes a web filtering feature that blocks access to dangerous or unwanted websites. It also features Intrusion Detection, which alerts you to attempted attacks on your computer.
One downside of ZoneAlarm Basic Firewall is that it doesn't include some of the more advanced features found in other firewalls, such as application control or intrusion prevention. However, if you're just looking for basic protection, this firewall will do the job.
ZoneAlarm Basic Firewall | Conclusion
ZoneAlarm basic firewall protects our computer from many threats like hacker activity, worms, viruses. It defines three security zones, trusted, public, and blocked. It is on by default and gives advanced access for protection. The tool handles the important things essential for protection such as billing, technical issues, and help we need.
Click Here for Free Trial
ZoneAlarm Firewall Review, Pros&Cons, and Pricing