11 Adobe Photoshop Alternatives & Similar Software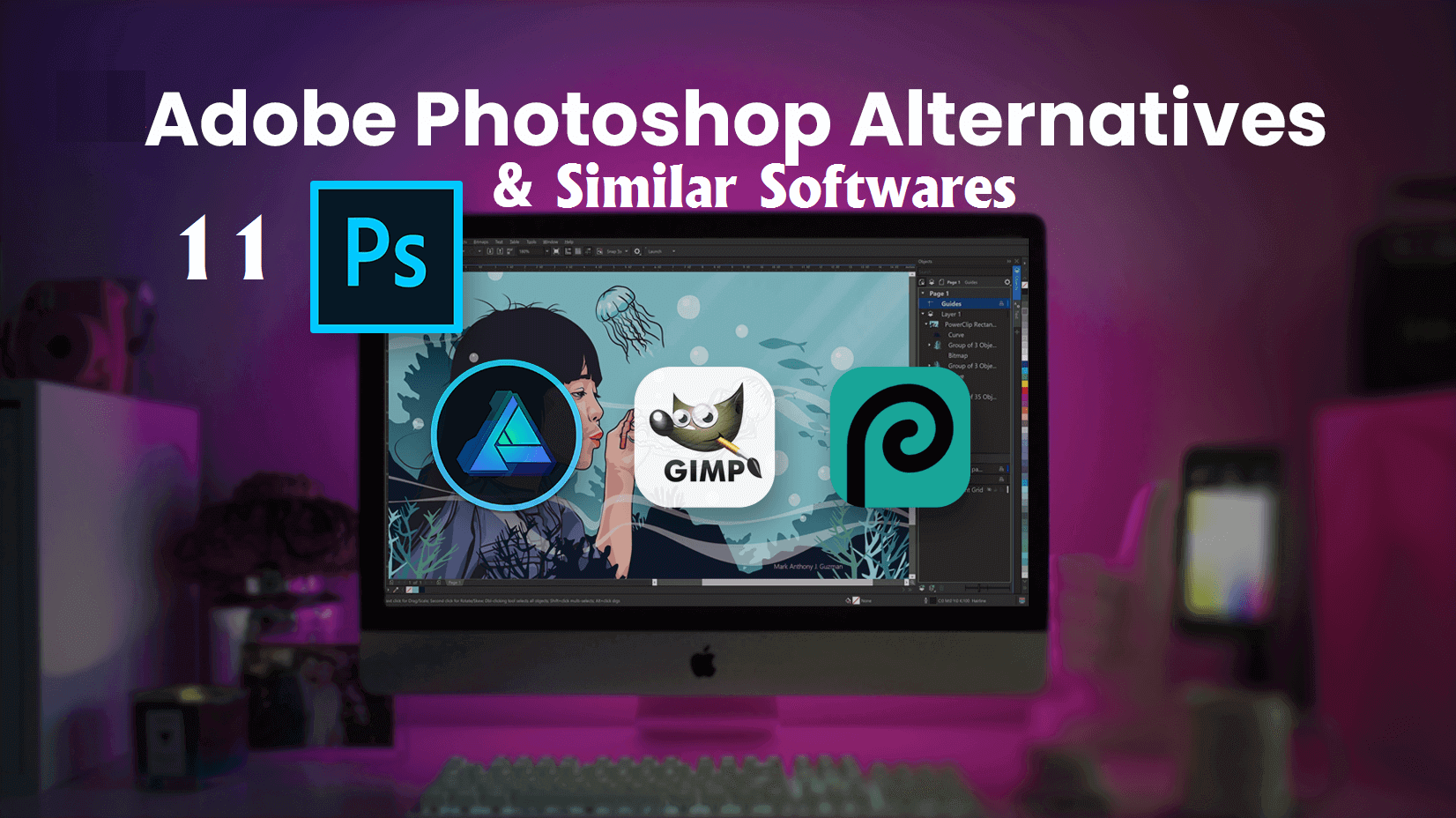 Before Top 11 alternatives and similar software let's talk about Adobe Photoshop intro, features and image editing capability. Adobe Photoshop is the best graphic design and imaging software having attractive and awesome features of editing and compositing to digital painting, animation, and graphic design.
You can crop, remove objects, retouch and combine photos and reimagine the art of photography. One can work with unlimited layers and masks. There is the facility of saving your work on the cloud automatically.
11 Adobe Photoshop Alternatives & Similar Software
PC Image Editor is an image editor containing fundamental features of photo editing like cropping, overlays and color adjustments. Other features like GIF maker and file format can be unlocked.
One can adjust the colors and size of photos, as well as other effects, can be added like blurs, waves, and vignettes. Special effects include pixilation, emboss and sharpening. It is the best app for photo editing and easy to use but switching between different tasks takes time to load. It is one of the finest alternatives to
Adobe photoshop
.
PhotoPad Photo Editor is a desktop editing software that has a lot of filtering tools, a beneficial app for social media users who upload pictures on Facebook, Twitter and Instagram frequently.
One can create photos by transforming creative ideas, create collages, edit hue, saturation, brightness, and contrast. Also, there is a feasibility of the deletion of the applied effect.
Darktable is an open-source application and a raw developer as a virtual light table and darkroom for photographers.
It manages all digital negatives in a database, enables you to view them through a light table. Darktable has tools to edit the images non destructively all the way is the pipeline. It manages the colors professionally and by GPU processing one can speed up workflow. It is similar to Adobe Photoshop and also the alternative.
Krita is a professional free and open source painting program, raster graphic editor and it has very affordable tools for artists. There are interesting animation tools as
it features color management support, non-destructive layers, vector artwork support, and advanced brush engines also feature an open Graphics Library-accelerated canvas. In 11 adobe photoshop alternatives and similar software, it contains the finest place in the list.
Affinity photo is professional creative software and raster graphics editor developed by Serif for macOS best adobe photoshop alternative has various editing features of real-time
and live to edit and has massive image support of 100+ megapixels. Its functionality features also include color space options, image stitching, and black point compensation. This tool is similar to the adobe photoshop and holds similar features of adobe.
Aperture is a smart application for image editing alternative of adobe photoshop and designed especially for discontinued images as image organizers having attractive and smart features of non-destructive editing i.e. organization of photographs by keyboard,
brushes for applying effects, for example, skin smoothing, dodge and burn and exporting to Flicker iCloud, etc.  Light Table, customizable printing and publishing, Multiple displays spanning and many more other features.
GIMP is a free and open-source image editor and it has a lot of modern features and sophisticated tools for graphic designers, photographers, illustrators or scientists.
The tool enables high-quality photo manipulation from retouching to restoring to creative composites the only limit is your imagination. It gives an artist the freedom to transform images into a unique creation. It also can be used to produce icons, graphical design elements, and mockups.
DxO OpticsPro is a raw converter software that is non-constructive has unique features of noise reduction and photo editing and many more.
Smart lighting, spot correction, lens softness tool, clear haze from photos and red-eye correction are some of the advanced and smart features of this software. The awesome feature of lens softness to improve overall sharpness. Moreover, it provides more than 30,000 optics to improve image quality.
Snapheal is smart software to remove unwanted objects from photographs used mostly by professional photographers.
It has unique smart erasing modes of adjust panel for global enhancements, clone stamp tool, retouch brush and works as standalone. The best app to give a finish to your images by adjusting exposure, sharpening, toning or blurring details.
Autodesk Sketchbook Pro 7 is an amazing painting software for professional drawing to create with the help of a superb sense of realism by using various painting tools in it.
This is an app with a lot of creative quick idea along with layer blending modes. One can create customized creative graphics by using its own customized brushes and sets. It is easy to use and free for desktop, mobile, and tablet.
FX Photo Studio Pro is an amazing app for popular effects and filters for photos having high-quality filters, frames and border,
super awesome 170 photo effects, PRO image editing tools, masking the effects and color splash tools, intuitive user interface for effortless image processing. There is also an option available for exporting the photos to iPhoto, Lightroom, Aperture, and its best alternative Adobe Photoshop.
Which one is your favourite Photo Editor and give feedback on "11 Adobe Photoshop Alternatives & Similar Software"

Cheers!!!